What to Binge-Watch on Netflix Over Spring Break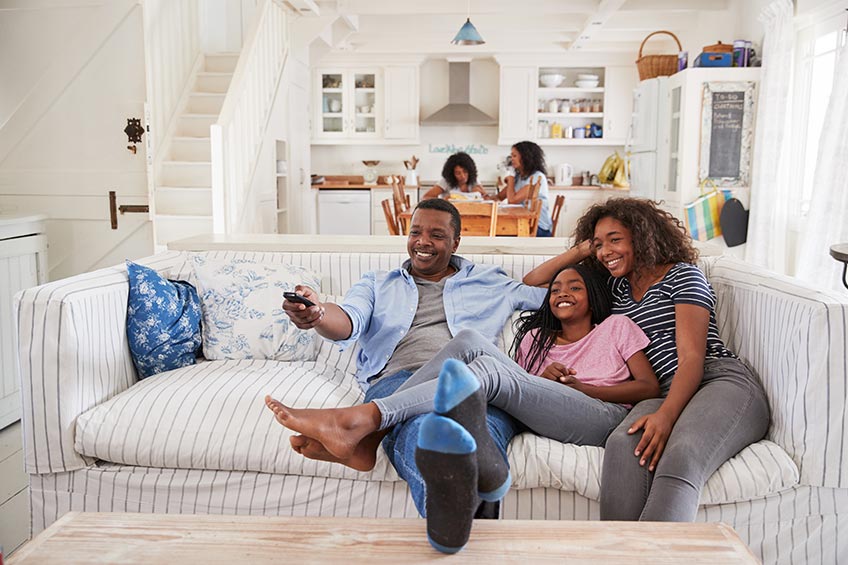 Spring break is around the corner. While we love the idea of spending the day lounging in a hammock outside and reading a good book, we also know that snowy spring weather, sick days, and travel delays might drive even the most active families to turn to a screen and veg out for a while. When those days arrive, we have you covered. Here are some suggestions for shows on Netflix that we think could be worth an hour (or afternoon) of your time during spring break this year.
The Magic School Bus/The Magic School Bus Rides Again
A lot of parents might remember watching the original Magic School Bus programming when they were elementary-aged and loving the information-filled, impossible adventures led by Ms. Frizzle. This television classic has now gotten a fun reboot and our kids can experience the joy of being "baked into a pie" with the gang (fun fact — in the most recent incarnation of the show, the theme song is sung by Lin-Manuel Miranda). The original and the remix are both winners for family viewing, as they provide some great information, super creative premises for storylines, and in-depth looks into the science behind the everyday world that we live in!
Carmen Sandiego
This is another show that is a spinoff of a franchise that parents might have experienced as children — either in the form of the early 90's game show Where in the World is Carmen Sandiego? or the Carmen Sandiego video and computer game series of the mid-'80s and later. Parents might remember fondly the geography lessons learned as they tried to track down the criminal mastermind, and for that reason, the Netflix reboot provides an interesting origin story for the eponymous villain (although in this version of the show, she's not nearly so villainous…some might even say she's quite moral). But even children who have never been exposed to this franchise before will enjoy the storyline of the show and will benefit from the geographical education that this edutainment line has so successfully offered now for decades. (Which might not be such a bad thing — did you know that in 2014, seventy-three percent of eighth-graders performed below the "proficient" level in geography assessments, according to The Nation's Report Card?)
Our Planet*
If you are looking for a show with stunning graphics that display the jaw-dropping beauty of our natural world, this is it. Watching this show as a family is one surefire way to ensure that your children are able to see some amazing views over their spring break and grow their understanding and respect for our planet and the Earth's ecosystem. As beautiful as the many scenes in this show are, though, there are also occasionally scenes of real-life animal behaviors that might be upsetting to younger viewers — most notably larger animals hunting and killing smaller prey. These scenes can provide a great space to have some real conversations with children about the cycle of life and animal relationships, but they can also be pretty up-close and violent, so parents might want to make sure that their kids are ready to face the hard truths of the animal kingdom before they queue up this program.
Anne With an E*
We like this show for the obvious literary connections it has to Anne of Green Gables – but don't be fooled. This Anne is written in a much darker tone than that of our (or our children's) favorite storybook friend, and so it is not appropriate for young watchers or those expecting the innocence of the literary character. There are a lot of reviews that criticize this show for the very dark adaptation that it makes of Anne's life and the lack of a cheerful glow that almost emanates from the classic children's books. We agree — this adaptation is one that provides a much bleaker, trauma-filled history for poor Anne, and her current-day optimism with the Cuthberts is always tinged with the strain of her previous life. While this is a show that parents might want to preview before watching with their children, there are many moments of visual beauty in the cinematography, and we can envision older teens finding this unusual take on a classic childhood heroine to be a very interesting lesson in character development.
A Series of Unfortunate Events
This series is based on the books of the same name by Lemony Snicket (pen name of Daniel Handler). The show starts with the depressing scenario of three children orphaned after the death of their parents, who end up in the care of an unfit guardian, Count Olaf (Neil Patrick Harris). This sounds kind of like a downer, and, well, it can be. But there are also many moments when this show provides insight into the unique joy of childhood, and it is a celebration of family, grit, and perseverance. Older kids might like the fantasy, character development, and life messages that this show presents. As an added bonus, have your children check out the activities on the Series webpage — and sneak in a little bit of "school time" under the guise of finding fun things to do over break!
Puss in Book: Trapped in an Epic Tale
Puss in Book is an engaging twist on the classic Puss in Boots that allows the kids to "choose the adventure" that Puss goes on. In this interactive animated series, the viewer is able to use their remote to select between choices at pivotal moments in the story, so that they can determine what decision Puss makes next. Kids really love that they get to be "in charge" of the story, and getting them to think through the next turn of the tale keeps them involved.
We hope these suggestions give your family some fun watching experiences, whether you are snowed in during an unexpected March blizzard, or stuck in an airport waiting for a delayed flight. Let us know if you end up watching any of the shows on Netflix in the comments, and please do add your own suggestions!
---
*These shows could contain questionable content for younger or impressionable viewers. We recommend that you research the content of each show before deciding if it is appropriate for your family. A useful resource for this is https://www.commonsense.org/, which is an independent nonprofit organization that rates and monitors media content across a range of platforms.