---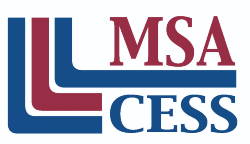 ---
The Well-Trained Mind Academy is accredited as a learning services provider by the Middle States Association Commissions on Elementary and Secondary Schools (MSA-CESS).

We are proud to be accredited by MSA-CESS, one of the six main accrediting organizations in the U.S. that are recognized by the U.S. Department of Education. A school accredited by one of these agencies can be sure that its credits will be recognized across the U.S. by other institutions of learning.
Accreditation is a rigorous process. It requires review of internal and external standards, reflection on progress and goals, and research into what stakeholders need and how we might provide it to them. When MSA-CESS assesses whether a school or service should be accredited they look at how the school or service performs in 12 key areas that make up their Standards for Accreditation:
Mission
Governance and Leadership
School Improvement Planning
Finances
Facilities School Organization and Staff
Health and Safety
Educational Program
Assessment and Evidence of Student Learning
Student Services
Student Life and Activities
Information Resources
Parents, students, instructors, and staff can expect the following from a
learning services provider accredited by MSA-CESS:
Adheres to the Middle States Standards for Accreditation;
Uses its mission, beliefs, and goals as the basis for daily decision-making;
Operates in the public interest and in accordance with ethical practice;
Accepts responsibility for the level of performance of its students;
Remains committed to continuous improvement in student learning and to its capacity to produce the levels of learning desired and expected by its community;
Operates in a collegial and collaborative way with all of its stakeholders;
Sustains its focus on implementing recommendations, addressing monitoring issues and correcting stipulations that may be part of its notification of accreditation and fulfills its maintenance requirements to the Commissions
NCAA (National Collegiate Athletic Association)
Core high school courses at the Well-Trained Mind Academy meets NCAA core-course requirements. Your student-athlete may take our courses and be eligible to be a college athlete. See the full list of NCAA-approved courses
here
.
---