Thoughtful Choices, Calculated Risks, and Meaningful Connections: Lessons from Dean Carrie Cooper's Career Journey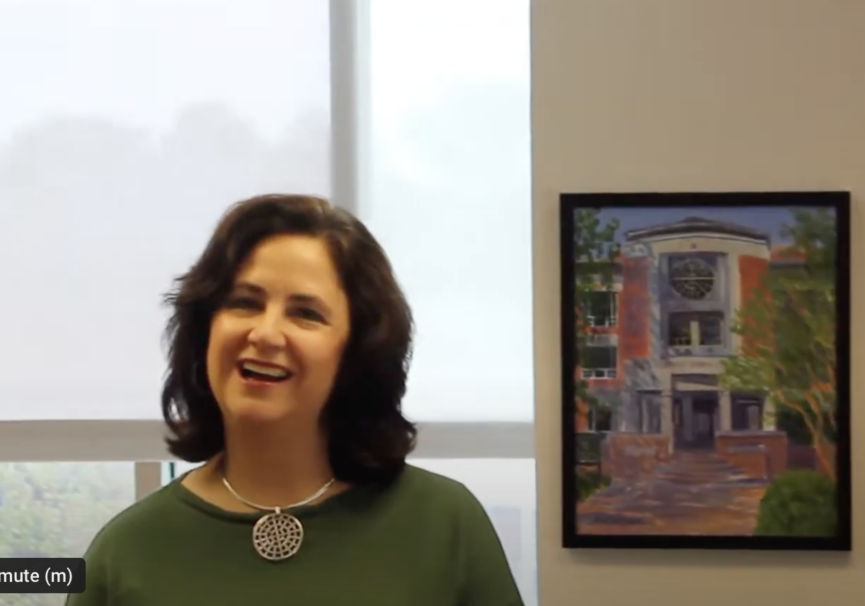 In March 2023, our Well-Trained Mind Academy high school students had an engaging session with Carrie Cooper, Dean of University Libraries at William & Mary. This talk is part of a series where professionals share their transformative career journey stories, providing students with insights into diverse post-graduation paths (read Andrew Jordan's story and advice here, too). Dean Cooper's inspiring story took us from a public school classroom to a prestigious university administrator, highlighting key elements that contributed to her success: thoughtful choices, calculated risks, and meaningful connections. Her narrative emphasized the importance of intentional career navigation, adaptability, and lifelong learning for personal and professional growth, along with a very healthy dose of praise for the value of libraries as wonderful public resources for all.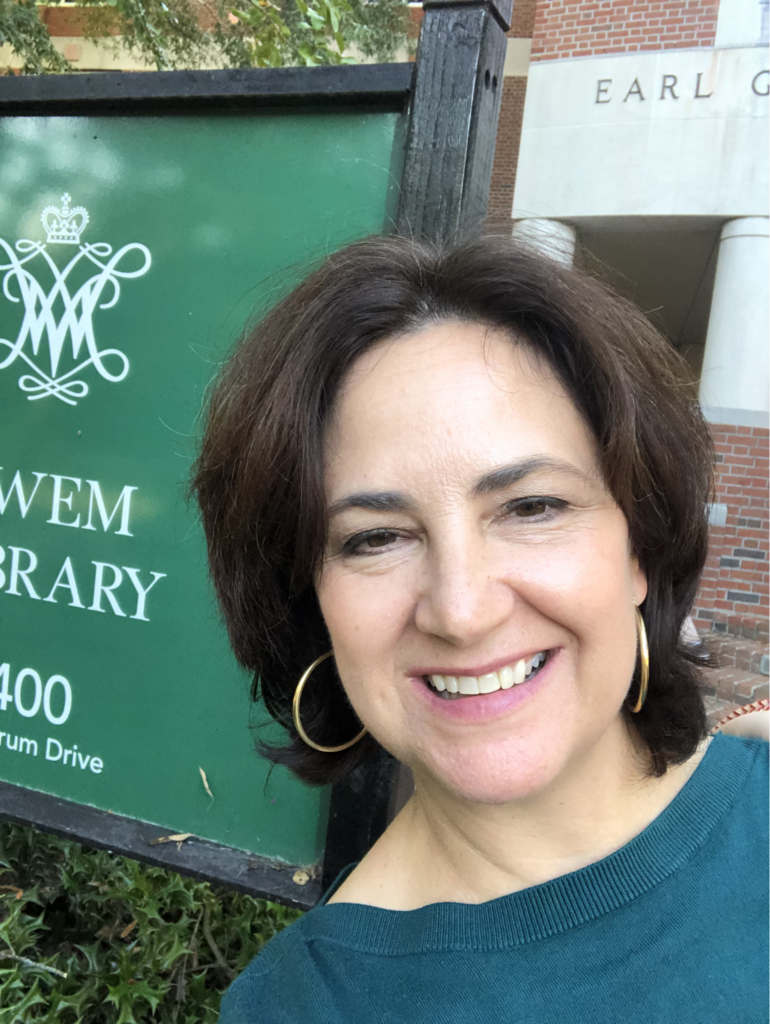 Carrie Cooper, Dean of Libraries at William & Mary
Dean Carrie Cooper's Career Highlights and Childhood Background
Dean Cooper started her talk by sharing the remarkable journey that led her to become the Dean of University Libraries at William & Mary. In this position her accomplishments include overseeing the renovation of the Reeder Media Center, strengthening infrastructure for digital collections, and raising $22 million during the For the Bold Campaign to enhance programming, staffing, and collections.
Yet these moments of success were not where Dean Cooper focused her narrative. Instead, she emphasized that her success wasn't effortless or without thoughtful choices. Throughout her career journey, Dean Cooper encountered pivotal moments where she had to make courageous decisions that she wasn't always sure would work out. Dean Cooper had limited exposure to university life and culture. Her parents had her young, and her father served in Vietnam before he completed his degree as a non-traditional student. She bravely entered academia after being a public school teacher and librarian, and stepped outside her comfort zone. Yet, in being brave, Dean Cooper found her courage rewarded in the opportunities that grew, the connections that she made, and the good work that she has been able to accomplish thus far in her career.
Finding a Passion for Teaching
After receiving her B.S. in Elementary Education from Florida State University, Dean Carrie Cooper started work in public education, where she very much enjoyed working in the classroom and with students directly. Starting as a fourth-grade teacher in a local school district, Dean Cooper found joy in connecting with students and sharing her love for books.
Dean Cooper with her fourth-grade class at Osceola Elementary in St. Augustine, Florida
Pursuing Advanced Education
This passion for literature naturally led her to the field of library sciences and to becoming a high-school librarian. Recognizing the need for further education, Dean Cooper pursued her M.L.I.S. degree from the University of Southern Mississippi. Through her dedication and progression in academia, Dean Cooper eventually assumed her current role as the Dean of Libraries at the College of William & Mary. Not one to rest on her laurels, Dean Cooper is currently pursuing an Ed.D. at William & Mary.
Insights and Advice from Dean Cooper's Career Journey
Dean Cooper shared some wisdom with students that she has gained over her career, including several key pieces of advice.
Ask for What You Need
One of the key insights from Dean Cooper's talk was the importance of advocating for oneself. Dean Cooper shared how she agreed to take on her first college librarian role that she was offered halfway through the school year, and, while the idea of moving was uncomfortable for her, she knew it was what was best for her career. "It took courage, because it was a hard choice – do I leave and do something totally new?" Dean Cooper also knew, though, that she held worth in that negotiation, and she learned to exercise it in a way that she had not done previously. Unwilling to leave the school and uproot her life in the middle of the year, she stipulated that she would only take on the new job after closing out the current academic year at her high school. Her new employer, also recognizing the value that she brought to the position, was happy to concede. Dean Cooper shared, "In that transition, I learned to ask for what I needed, and I realized that they thought that I was the right person, and that they were willing to wait for me. And that was really great to learn."
Embrace Opportunities and Overcome Challenges
Dean Cooper's talk highlighted how she embraced opportunities and overcame challenges throughout her career. She emphasized that her achievements were not effortless, but the result of making brave choices. From coming to academia without the generational knowledge one might find in a family full of college graduates, to taking on unfamiliar roles and pursuing leadership positions, she exemplified the courage needed to pursue personal growth. One of our WTMA students asked how, early in her career, Dean Cooper made the choices that she did and did not get overwhelmed into "choice paralysis." Dean Cooper replied, "I took the greatest opportunity in front of me, and then made a choice to not get too comfortable in my first few jobs. I moved around a lot in the first ten years of my career, and this allowed me to learn and grow."
Risks are Not Your Enemy
This naturally led Dean Cooper into another big theme of her talk – the value of taking risks. When questioned about how she felt about taking risks in her education and career journey, Dean Cooper was upfront about the necessity of such action: "I knew I was taking risks and I felt like if it didn't work out, I would make a new choice. Looking back, I realize I was brave to make those decisions and I am proud of myself. There's pride in success and failure when you can learn from your mistakes." Dean Cooper encouraged students to take calculated risks and embrace the possibility of failure as a valuable learning experience. Her willingness to leave comfort zones and embrace new challenges allowed her to grow personally and professionally. By reflecting on her own choices, Dean Cooper conveyed the importance of resilience, adaptability, and the willingness to learn from mistakes.
Build Connections and Nurture Networks
Another key piece of wisdom that students took from Dean Cooper's talk is the importance of forging connections within the field, and being open to the ways in which those connections might help you to find your next step in your career journey. As Dean Cooper relayed the serendipitous way her hometown school's principal helped her find her first librarian job, she concluded, "It's amazing how your network helps you find your next path." In sharing these seemingly small details about her own journey, Dean Cooper reminded students that opportunities often arise from unexpected sources and that remaining open to new paths is crucial.
Have Confidence in the Face of the Unknown
As Dean Cooper climbed the ranks through her career, she faced uncertainties and took on roles that initially seemed daunting. And she found each step to be "really scary, and really hard" to contemplate. Yet she didn't let those nerves about her new roles stop her. As Dean Cooper says, "This is what happens in a career – you think you are going to do this, and then sometimes life happens, and you get to do something different … " Her story exemplifies the idea that life may lead us in unexpected directions, and embracing change can lead to fulfilling opportunities. Having these opportunities, though daunting, can be a great impetus to gain greater confidence in oneself, and to learn that it is important to know what you want and when to ask for it, in order to ensure that you are working towards your best possible outcome.
Libraries and Their Resources are Valuable
Of course, we couldn't end this summation of Dean Cooper's talk without a nod to her love of books and libraries. Dean Cooper shared with us some of the amazing resources that are often available in college and university libraries, such as the "The Curve," a large scale video wall, at Georgia State University and the special collections research center at William & Mary.
(large scale video wall at The Curve, Georgia State University Library)
Consider and Consult Libraries when Embarking on Your Educational Journey
Dean Cooper encouraged our students to take advantage of the resources local to them – as members of a university community or not. Many college and university libraries offer community members great resources and opportunities that open doors to research and technology tools that are not usually accessible at the in-home level.
A Democracy themed book display at William & Mary's Swem Library.
Even local public libraries are growing increasingly well-stocked with resources for scholarship and creative work that would not have been possible just five years ago, and are becoming much more than just places to find and read books. As Dean Cooper says, "Libraries are not just about storing knowledge, they are about creating knowledge, too."
Reeder Media Center: One of the unique spaces at William & Mary libraries for students to gather and collaborate to study and create.
One final piece of advice that Dean Cooper offered to our high school students was this: "Don't fail to consider the library of a university as one of the factors that could impact your choices when selecting a college." As Dean Cooper reminded the students, "Visit the library when you go on your campus tours! Are students there? Is technology present? Do you want to spend time there? You can also learn a lot about a library on social media and by looking at the website." If this is a place that you plan to spend a good bit of time (and what dedicated scholar wouldn't be planning on getting to know the stacks of their favorite library by heart?), you might as well make sure you are going to feel comfortable and welcome when you are there!
Reflect and Remember: A Successful Career Journey Often Requires Courage and Connections
Our students found inspiration in Dean Carrie Cooper's talk and gained valuable insights that will undoubtedly shape their own aspirations and pursuits. Her emphasis on choices, courage, and connections aligns with our classical education philosophy of fostering well-rounded individuals prepared for a range of possibilities in their future. As we navigate our paths, let us remember that our choices and resilience can lead to purposeful and fulfilling careers. So, this weekend or this evening, take a moment to recharge and enjoy some downtime — perhaps by visiting your local library or delving into a favorite book. It's an opportunity to rejuvenate, reflect, and embrace new and exciting ideas for the future.