WTMA Visits Colonial Williamsburg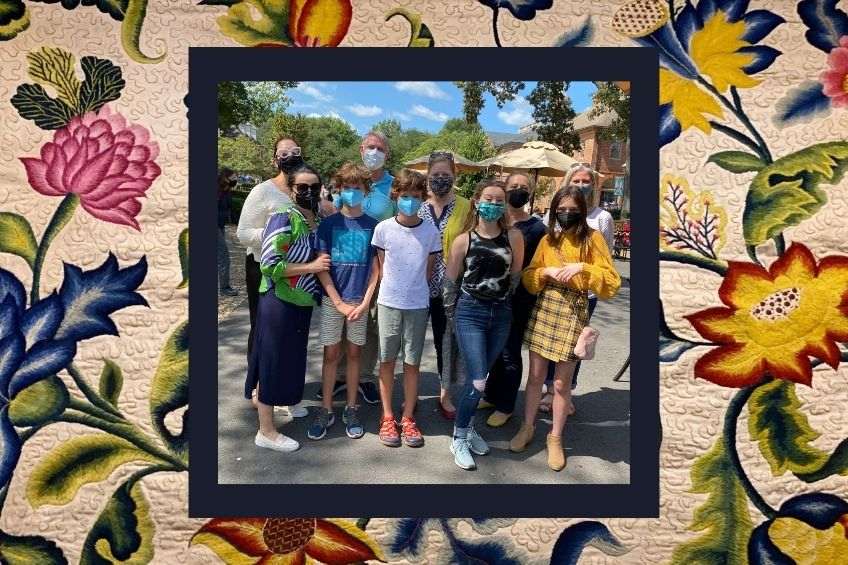 In September of 2021, we had our first Academy-sponsored family meet-up in Colonial Williamsburg. Our school may be online-only, but we do have an actual office in Charles City, Virginia, and most of our full-time staff live in the surrounding area. So it made sense to try getting Academy folks together close to home when we had the chance! We reached out to WTMA families in the Hampton Roads area and were lucky two could fit us into their busy schedules!
Art Museums of Colonial Williamsburg
We began our trip at the Art Museums of Colonial Williamsburg. Students Ariel and Eva Edwards and Paul and Andrew Bene, and their moms joined Julia Collier (Dean), Steve Otto (Director of Operations), Jennifer Roudabush (Chair of Language Arts), and Jenne Phillips (Customer Service Specialist) for a short guided tour of the museum followed by some self-led exploring.
Our tour started in the DeWitt Wallace Decorative Arts Museum where we learned about colonial fashion and tea service.
Then we moved on to the Folk Art Museum and looked at beautiful quilts, quirky weathervanes, and somewhat eerie portraits. We met a master silversmith and heard about his craft, and we considered some cool older technologies, like a printing press and bookbinder.
Archaeological Excavation Site
After the gallery gazing, we walked through the streets of Colonial Williamsburg towards our lunch destination, the famous Cheese Shop. On the way, we took a minute to look in awe at the work being done on the First Baptist Church Excavation Project, an archaeological dig aimed at recovering one of the country's earliest African-American congregations. The site included an interpretative chart, but perhaps the most interesting part was the careful work of the archaeologists to recover and preserve a historic site. Watching the excavation being done painstakingly in real time helped us appreciate the dedication and attention to detail involved in these labors.
Learning About History While Building Community
Lunch was a lot of fun. Everyone got to know each other a little better as we sat and chatted at our outdoor picnic. The students talked a bit about some of their favorite classes and what they enjoyed doing outside of their Academy work. We've got some very talented students who have such unique interests and abilities! Paul and Andrew spend much of their time on the tennis courts when they aren't camping with their parents. Ariel and Eva, new to Richmond, Virginia, have been dancing for years and are now getting involved in the art of aerial acrobatics.
While getting the chance to visit the beautiful sights of Williamsburg was a lovely experience, it was by far the most fun to spend time with our Academy families. Of course, no trip to eat outdoors on a beautiful day in Virginia would be complete without a few uninvited winged guests crashing the party. So we also discovered who among us had the most severe cases of apiphobia.
We finished up our time with a chat about what our next Academy field trip might include. As weather and pandemic conditions allow, we are hopeful that we will be able to continue this effort at community building and expand it throughout multiple areas! If you have any suggestions for meet-ups in your area, please email [email protected].